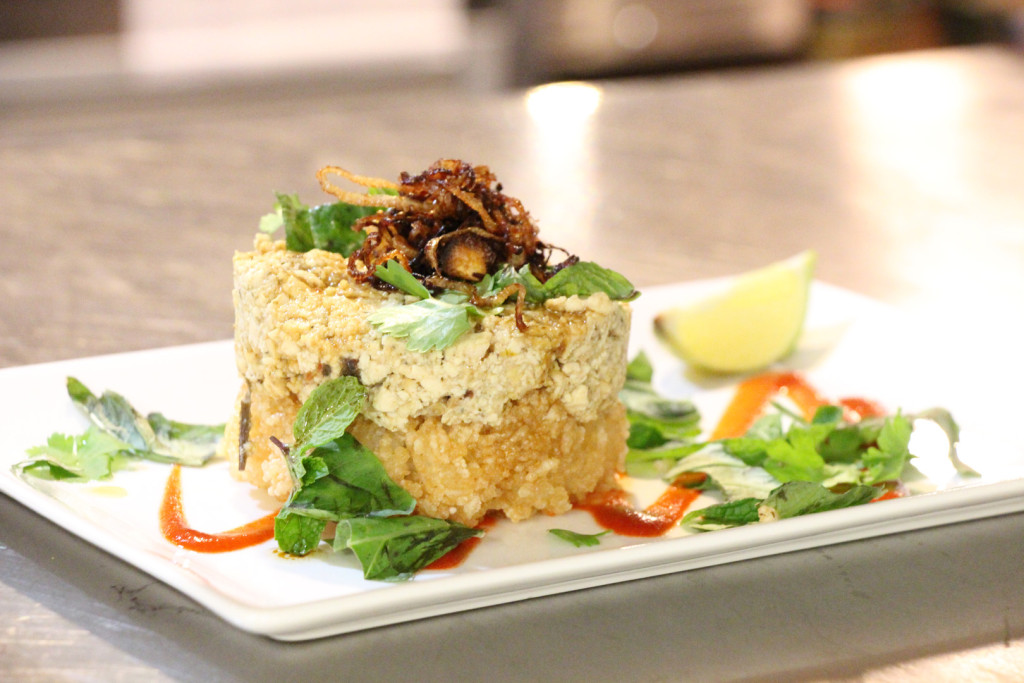 Tasty Harmony is committed to provide our community with healthy creative plant based cuisine.
* If you have a nut allergy we urge you to not eat here due to the amount of nuts we use in our food. Our apologies.
MENU
In an effort to pay our kitchen employees a fair living wage, Tasty Harmony has implemented a 3% kitchen surcharge on all tickets. This is a long time coming, folks! Doing so will enable us to keep our trained staff around and therefore maintain our level of quality. We hope you understand and as always, we are so grateful to our amazing customer base for helping us create a positive community around our family owned and operated restaurant!
Nachos De YNEZ » (g.f.)
Vegan nacho cheese, pickled jalapenos, black beans, roasted corn, pico de gallo, guacamole
Make 'em LOADED – add asada seitan
Seitan Hot Wings »
Battered and fried house made seitan or cauliflower, celery sticks, chipotle ranch, buffalo or bbq sauce
Fried Brussels » (g.f.)
deep fried brussles sprouts, salt, balsamic reduction, garlic aioli
Soup
Soup of the Day ** Call 970-689-3234 and ask what we have!
Cup » | Bowl
Caesar Supreme  »  (g.f.)
chopped romaine, grilled tofu, eggplant bacon, avocado, tomatoes, red onion, chickpea croutons, vegan caesar dressing
Farmstead  »
local lettuce, fried vegan goat cheese, grilled carrot, dates, walnuts, lemon caper vinaigrette
Vegan Caesar » sm  » lrg   (g.f.)
romaine lettuce, vegan caesar dressing, chickpea croutons
+tofu, tempeh, seitan
sammies & burgers come with your choice of fries, house salad, caesar salad, coleslaw, (sub a cup of soup $1)
(Make 'em Garlic Fries! $1.50)
(Burger patties are now soy free and gluten free)
Big Boy Burger »
House made gluten-free patty, toasted roll, tomato, lettuce, red onions, pickles, special sauce
Black and Blue Burger
House made gluten-free patty blackened with Cajun seasoning, blue cheese, roasted jalapeno, onion rings, special sauce, tomato, lettuce, pickles
Gidy Up
eggplant bacon, caramelized onions, bbq sauce, cashew cheese, tomato, lettuce, pickles, special sauce
All sandwiches come with your choice of fries, house salad, caesar salad, or cole slaw
(sub gluten free bread +$.50- g.f.)
(Make 'em Garlic Fries! +$1.50)
French Philly
Sliced seitan, grilled onions and peppers, melted cashew cheese, toasted hoagie roll with au jus dipping sauce.
Nashville Chxn
vegan chxn patty, eggplant bacon, buffalo or bbq sauce, lettuce, tomato, pickles, chipotle ranch, bun
The Reuben
Charbroiled tempeh, garlic grilled marbled rye bread, sauerkraut, 1000 island, cashew cheese
Ricky Bobby
buffalo style tempeh, cashew cheese, coleslaw, red onion, tomatoes, pickles, whole wheat tortilla wrap
Oyster Mushroom Po' Boy
fired and seasoned oyster mushrooms, cajun remoulade, shredded lettuce, tomatoes, pickles, onion, grilled hoagie
LUNCH SPECIAL  11-3 pm »
Half Sammie & Cup of Soup
rueben or french philly
Half Sammie  & Small Salad
Cup of Soup & Small Salad
Thai Rice Noodle Bowl (g.f. optional)
warmed rice noodles, cucumbers, cherry tomatoes, sliced jalapeños, thai basil, cilantro, crushed peanuts, peanut sauce, and your choice of either chixn katsu patty or grilled tofu
Coconut Curry  (g.f.)
yellow curry sauce, pineapple ,carrot, onion, cabbage, green pepper, tomato, brown rice, thai basil, peanuts
+tofu or tempeh $4
Buffalo Mac n' Cheese
battered and fried cauliflower tossed in with buffalo or bbq sauce, vegan mac 'n cheese, garlicky greens
Burrito Bowl (g.f.)
Brown rice, black beans, tortilla chips, guacamole, pico de gallo, grilled onions, peppers & corn, nacho cheese.
ADD seitan "carne asada +4.50 (g)
Samurai Bowl  (g.f.)
Sesame nori crusted tempeh, brown rice, steamed greens, wakame, pickled ginger, nori caesar dressing
ADD Avocado + $1.5
Kids Seitan Nuggets »
Seitan nuggets, french fries (Age 10 and under)
Kids Burrito»
Rice, black beans, cashew cheese (Age 10 and under)
Fries »
Garlic Fries »
Garlicky Greens»
Brown Rice »
Black Beans »
Extra Dressing »
Cashew Cheese»
Grilled Bread »
Tofu, Tempeh, Seitan »
Eggplant Bacon »
Guacamole side»
Pico de Gallo side»
A.B.C. » $7.50
Almond milk, raw cacao, almond butter, frozen banana, dates and raw honey.
POW! » $8
almond milk, mixed berries, raw honey, cacao, maca powder, flax oil, goji berries, spirulina.
Little Lion » $7.50
Almond milk, peanut butter, Dandy Blend (Dandelion "Coffee"), honey, raw cacao, ice.
Frozen Sunshine » — $7.50
Fresh o.j., mixed berries, banana, almond milk.
Espresso Blended » $6
Double shot of espresso, choice of milk (oat or almond milk) Ice.
Berries 'N Cream » $7
almond milk, frozen mixed berries, dates, vanilla, agave nectar, ice.
Get Yer Greens » $7.50
O.J., apple juice, kale, spinach, banana and spirulina.
Golden Calf » $7.50
house made almond milk, pineapple, banana, honey, ginger, turmeric, cardamom, black pepper.
Supplements: $1
Raw Cacao, Rice Protein, Spirulina, Flax Oil, Raw Honey, Goji berries, Irish Moss
HAPPY HOUR 3-5pm at the bar only! TUES-FRIDAY
Mexi-Crunch Wrap » $10
seasoned beyond burger with rice and beans, shredded lettuce, pico, and vegan nacho cheese seared on our flat top to crunchy perfection.
Small Nachos » $8.50
Add Seitan Asada +$4
Boulder Gin 'n Tonic » $7
Kolorado Mule » $7
Zwei Brewing, Pilsner » $4
Line 39, Cabernet Sauvignon » $7
Santa Julia, Malbec » $8
Hess, Chardonnay » $8