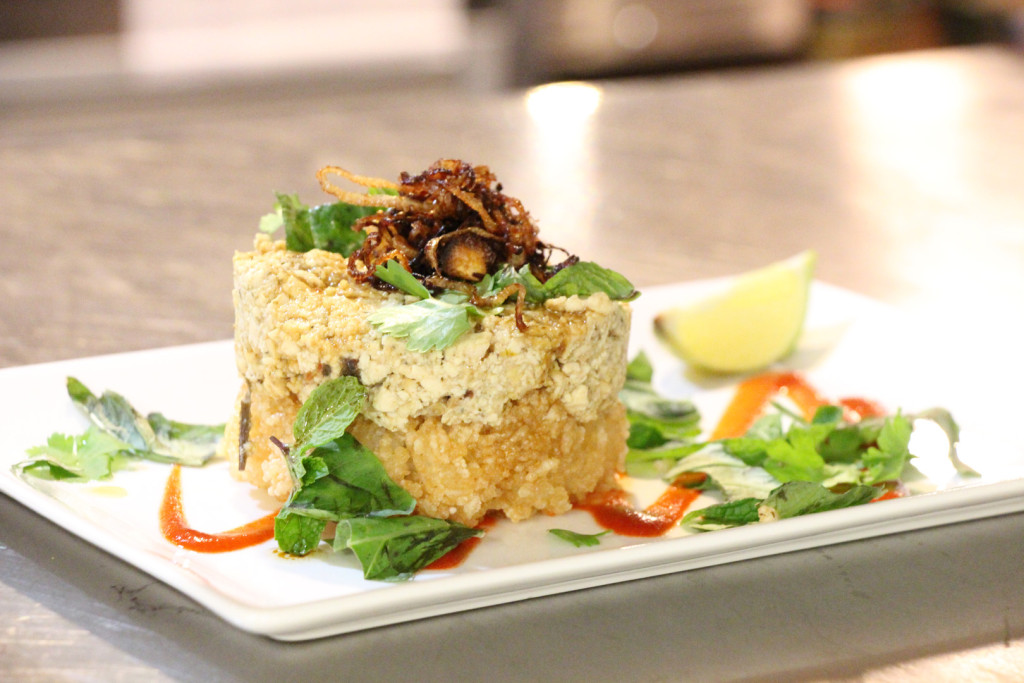 Tasty Harmony is committed to provide our community with healthy organic plant based cuisine. Most of our food is vegan and most of our desserts are wheat free and sugarcane free. Though we may not be able to always use 100% certified organic ingredients due to unavailability or cost effectiveness, we will always strive to bring you the best that nature has to offer in a creative and tasty way.
* If you have a nut allergy we urge you to not eat here due to the amount of nuts we use in our food. Our apologies.
food menu
Pickles & Nuts » $6
Seasonal rotating pickled vegetables, roasted nuts and seeds.
Nachos de Ynez (starter size) » $9.50
Layers of our homemade cashew cheese, black beans, guacamole, vegan sour cream and salsa piled on top of corn chips.
+ BBQ Style Jackfruit » $3.50
Asian Lettuce Wraps » $10
Romaine lettuce "boats" stuffed with Asian fried tofu and julienned vegetables in a sweet ginger garlic sauce. Topped with wantons.
Seitan Hot Wings » $9.50
battered and fried smoked seitan, your choice of either house made buffalo sauce, BBQ sauce or korean sesame, celery, chipotle ranch
Artichoke Quinoa Cakes » $10
Nori, dulse, artichoke hearts, Caesar dressing
Hush Puppies » $9
Jalapeno jelly, cilantro scallion compound butter, smoked salt and brown sugar dust.
Soup
Soup of the Day &
Gumbo (g)
Cup » $3.95 | Bowl » $5.25
Check out our facebook page or give us a call to find out what our amazing soup is today!
(970) 689-3234
Roots & Kale » $13
Marinated lacinato kale, roasted rutabaga, parsnip and carrot, shredded red onion, roasted sunflower seeds, dried plums, manchego cheeese tossed in a creamy roasted celery root dressing
Quixote Chop » $12
Black beans, roasted corn, pickled carrots and red onion, tomato, celery, cashew cheese and avocado on a bed of spring mix and topped with tortilla strips and avocado. Comes with Chipotle Ranch.
Buddha Belly » $12.25
grilled tofu over romaine lettuce, shredded cabbage, shredded carrots and zucchini, brown rice, tomatoes, wonton strips tossed in a peanut wasabi dressing
House Salad » $6 » $9
Mixed baby greens, shredded carrots, shredded beets tossed in the house dressing.
Caesar Salad » $6 » $9
Crisp romaine tossed in a homemade vegan Caesar dressing with capers and gluten free croutons.
The Rueben » $11.25
Marinated grilled tempeh, cashew cheese, sauerkraut, 1000 island, toasted rye bread
Big Boy Burger » $11.50
House made rice, bean and soy patty, toasted roll, tomato, lettuce, grilled onion, pickles, 1000 island, mustard
Ultimate Supreme Mega Burger » $13
House made rice, bean and soy patty, onion rings, guacamole, cashew cheese, tomato, lettuce, pickles, 1000 Island and a side of BBQ sauce
Harmony Wrap » $10.75
grilled tofu, quinoa, romaine, avocado, tomato, caesar dressing, whole wheat tortilla
BBQ Pulled Jackfruit » $11.50
smoked jackfruit, house made bbq sauce, coleslaw, tomatoes, red onion, pickles on a roll
The Ricky Bobby  » $11.50
Battered and fried tempeh dipped in hotwing sauce, shredded cashew cheese, coleslaw, pickles, tomatoes and red onion in a whole wheat tortilla.
French Philly » $11.25
Sliced seitan, grilled onions and peppers, melted cashew cheese, toasted hoagie roll with au jus dipping sauce.
Der Schnitzel Fritz » $14
Battered and fried seitan, mashed potatoes and gravy,traditional German style sauerkraut, pickled beets
Coconut Curry » $13.50
Stir-fried vegetable medley in a coconut curry sauce, brown rice, mung sprouts, peanuts, cilantro, thai basil.
+tofu or tempeh 2.50
El Burrito Blanco » $12.50
Black beans, spanish rice, grilled onions, bell peppers and roasted corn, and cashew cheese in a whole wheat tortilla topped with smoke jalapeno white sauce, shredded lettuce, guacamole, pico de gallo. Comes with a side house salad.
+Jackfruit 3.50  
Nachos de Ynez » $12.50
Large version of the starter.
+BBQ Jackfruit 3.50
Shepherd's Pie » $13
Mushroom, lentil and smoked tempeh filling, mashed red potato crust with manchego cheese, gravy, garlicky green beans, micro greens. (d)
Ramen Bowl » $14
sunflower seed tonkotsu style broth, ramen noodles, shiitake and oyster mushrooms, corn, daily greens, nori, chili oil, fried shallots and togorashi
The Big Macrobiotic  » $13
Daily steamed veggies, daily steamed greens, daily beans, brown rice, sea vegetable salad, cultured cabbage and your choice of dressing.
+tofu or tempeh 2.50
Make Your Own Plate
Daily 2 » $7 | Daily 3 » $9| Daily 4 » $11
One dressing of choice included + Extra dressing » $.85
» Brown rice, millet/quinoa, Spanish rice, mashed potatoes, black beans – a la carte $3.50
» Daily steamed greens, daily steamed veggies, sea vegetable salad – a la carte $3.50
» Baked tofu, marinated tempeh, grilled seitan, BBQ jackfruit (please limit proteins to one portion per plate) – a la carte $3.95
» Cultured cabbage, house salad, Caesar salad. – a la carte $3.50
» Choice of dressing: House, Caesar, Chipotle Ranch, Peanut Wasabi, Roasted Celery Root Vinaigrette, 1000 Island, Gravy, Smoked Jalapeno White Sauce, BBQ Sauce, Au Jus.
» Extra sides: cashew cheese, avocado, guacamole. $1.50
The Caballero Plate » $10.50
Spanish rice, BBQ jackfruit, Daily Greens with shredded cashew cheese and BBQ sauce.
The Yogi Bowl » $9
Quinoa/Millet, Grilled Tofu, Daily greens with Caesar dressing.
The Home Plate » $7
Mashed potatoes, grilled seitan, gravy.
Samurai Bowl » $12.50
Sesame nori crusted tempeh, brown rice, steamed greens, sea veggies, pickled ginger, peanut wasabi dressing.
A.B.C. » $6.25
Almond milk, raw cacao, almond butter, frozen banana, dates and raw honey.
POW! » $7.50
almond milk, mixed berries, raw honey, cacao, baobob powder, flax oil, goji berries, spirulina, Irish moss, sea salt.
Little Lion » $6.25
Almond milk, peanut butter, Dandy Blend (Dandelion "Coffee"), honey, raw cacao, ice.
Frozen Sunshine » — $5.95
Fresh o.j., mixed berries, banana, rice milk.
Espresso Blended » $4.95
Double shot of espresso, choice of milk (soy, rice, coconut almond) Ice.
Berries 'N Cream » $5.95
almond milk, frozen mixed berries, dates, vanilla, agave nectar, ice.
Get Yer Greens » $5.95
O.J., apple juice, kale, spinach, banana and spirulina.
Supplements: $1
Raw Cacao, Rice Protein, Spirulina, Flax Oil, Raw Honey, Goji berries, Irish Moss