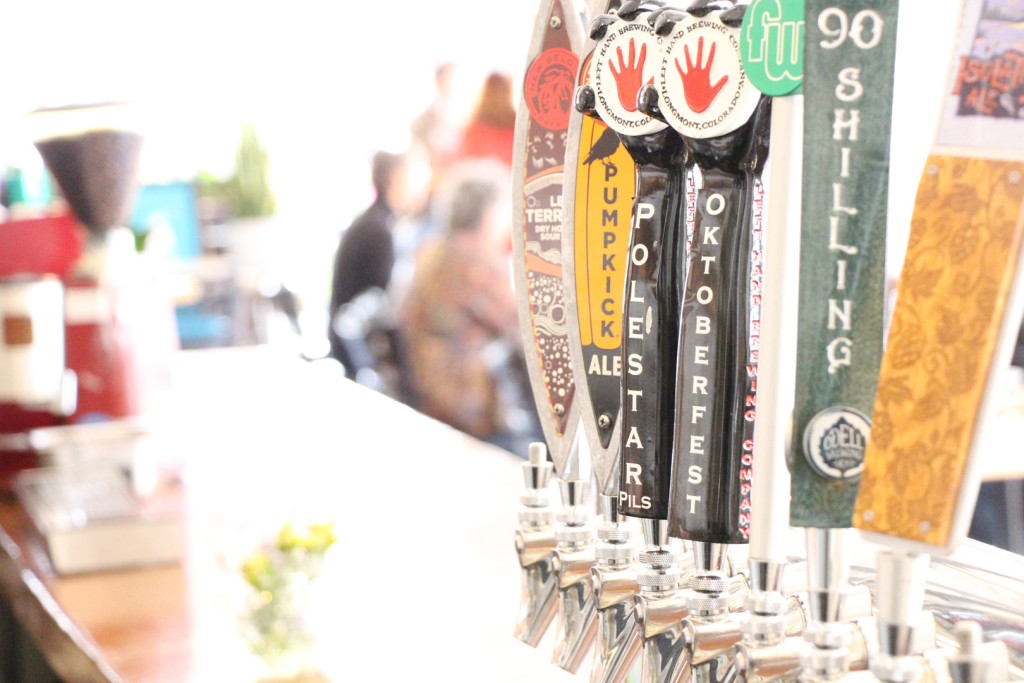 Tasty Harmony offers a wide variety of wines, beer, cocktails and tonics (spirits and non-spirited). We have worked closely with our wine distributors to make sure we only carry wines made with sustainably grown grapes. All the vineyards that our wines come from go beyond organic by implementing sustainable practices like using renewable energy and permaculture techniques.
drink menu
Chilled Hibiscus
Chilled Maté
Lemonade
Ginger Peach Kombucha
Virgil's Root Beer
Topo Chico
Organic Apple Juice
Orange Juice
House Almond Milk
Kids Drink (Apple juice, oat or soy milk)
Coffee Latte » (Oat or Almond Milk) Bean Cycle Espresso!
Americano
Espresso
Hot Chocolate (real cacao) »  (Oat or Almond Milk)
Chai Latte (Bhakti) »  (Oat or Almond)
Golden Milk Latte (turmeric, black pepper, cardamom, honey) »
Reishi Cappuccino »
reishi & chaga mushrooms, roasted dandelion & chicory root, toffee stevia, agave, house milk
Pot of Tea (MOUNTAIN ROSE HERBS ORGANIC TEA)
Pot of Tea »
Milk and Sweeteners on Request
Red Teas: Red Rooibos, Green Rooibos
Herbal: Roasted Dandelion Root, Herbal Tonic (21st Century), Throat Soother, Luciditea (for sleeping), Peppermint, Chamonile
Green Tea: Dao Ren, Gen Maicha, Gunpowder, Oolong, Yerba Maté
Black Tea: Darjeeling, Earl Grey, English Breakfast, Mango Ceylon
Line 39/ cabernet sauvignon Northern California
Santa Julia/ malbec Argentina
Cote'Mas Rose'/ Mourvedre California
Montinore Estate / pinot grigio, Willamette Valley Oregon
McBride Sisters / sauvignon blanc, Marlborough, New Zealand
Poema/ cava,  Spain
Paul Chevalier/ brut,  France
Cava Mimosa
Irish Red, Maxline »
IPA, Odell »
Pilsner, Zwei »
Dominga Mimosa Sour New Belgium »
Hop Raider IPA, New Belgium »
90 Shilling, Odell»
Non-Alcoholic IPA, Athletic Brewing C0 RUN WILD »
Flying Embers Cherry Hibiscus Lime Hard Booch
black cherry with a twist of lime
Seattle Cider Company, Dry Odyssey»
spirits-based
Kolorado Mule
Prairie organic vodka, ginger peach kombucha, lime juice, muddled mint, agave
Damiana Margarita
Dobel Diamante repasado tequila, bauchant, damiana tincture, agave, lime juice, salt
Sub Mezcal
Lavender Gin n Tonic
Boulder gin, Q tonic water,lavender, lime
Bohemian Coin
Boulder Gin, fresh grapefruit juice, elderflower liquor, lemon, bitters
Night Owl
Tin Cup whiskey, St. George americano Liquor, vermouth, bitters, lemon
Bright & Sunny
Matusalem Cuban Rum, pineapple juice, ginger peach kombucha, muddles basil
Forest Dance
whiskey, chaga tincture, chamomile, lemon, muddled mint, soda
Espresso Martini
Breckenridge Espresso vodka, coconut milk, agave, cacao syrup
non-spirits based
Peace Blossom
Chamomile, tonic water, simple syrup, lemon juice, fresh muddled mint
The Drink That Makes It Impossible For
Me To Have Bad Thoughts
muddled thai basil, mint & jalapeno, kumbucha, tulsi tincture, lime juice, agave
Reishi Cappuccino
reishi & chaga mushrooms, roasted dandelion & chicory root, toffee stevia, agave, house milk
Apple Smash
apple juice, chai, topo chico, lemon
Sparkling Lemonade
House made lemonade, soda water